Self-care is an essential element of our overall health and wellness, and something many of us strive to incorporate more regularly into our everyday lives. One of the easiest, most effective ways to increase our well being is by rethinking our bathroom design; even simple tasks like taking a shower can be elevated to spa status in a room that's carefully crafted with luxury materials and thoughtful touches.
Back to Nature
2022's biggest luxury bathroom trends lean heavily on the use of natural materials like wood and stone, creating a soothing and organic atmosphere – the perfect counterpoint to our hectic, tech-heavy lives. There are plenty of ways to integrate both wood and stone into your bathroom design, from gleaming hardwood floors and rustic reclaimed oak countertops to accent walls constructed with locally sourced granite, limestone or travertine. Increase the coziness factor by incorporating a fireplace within the stone wall (or simply include a recessed nook for candles).
Skylights are another growing trend in luxury bathrooms. These multitasking design elements elevate the atmosphere of your bathroom several ways: in addition to providing abundant natural light (particularly in interior rooms that don't have windows), they make smaller spaces appear more airy and expansive. Venting skylights also bring a bit of nature into the bathroom, in the form of cooling breezes that help regulate your overall room temperature.
Plants offer another effective way to bring the beauty and serenity of nature into your bathroom. Choose varieties that thrive in higher humidity, and bear in mind how much light your bathroom gets. Potted bamboo is a good choice and imparts a tropical, spa-like vibe, while a hanging basket of ivy provides an ethereal, English garden-style atmosphere.
Calm Colors and Lighting
Your bathroom should be a place of relaxation and inspiration, and proper use of color is one of the most effective ways to achieve that goal. Incorporate subtle yet inspiring hues to emulate the look and feel of your favorite day spa. Warm earth or sand tones and variations of dove gray create a soothing effect, especially when paired with burnished copper hardware; pale, creamy yellow looks stunning against white tile.
Likewise, lighting plays an important part in setting the overall mood of a room, and Kohler has upped the ante with their Veil Collection of bathroom products, which are programmed to match the level of light they display to your body's circadian rhythms.
That doesn't mean you should completely avoid mixing in some bold contrasts here and there. A brightly colored vanity can really pop in a neutrally hued room. Even small accents, like colorful towels and bathmats or a rose-gold skincare fridge, add a sophisticated focal point to your space.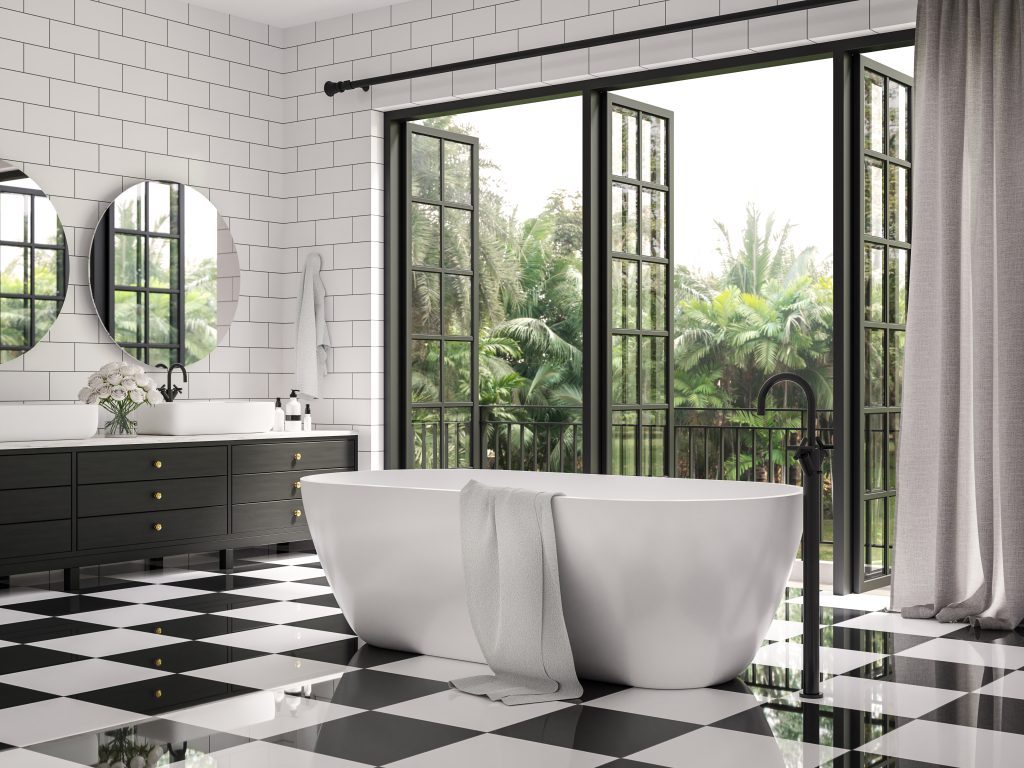 Retro Appeal
Mid-century modern design is definitely having a moment, and there are ways to incorporate this unique trend in your bathroom in ways that are impactful without being overwhelming. Consider elegant mosaic tile flooring in a soft pastel shade of pink or mint green, or spice up your wall space with an asymmetrical or sunburst mirror.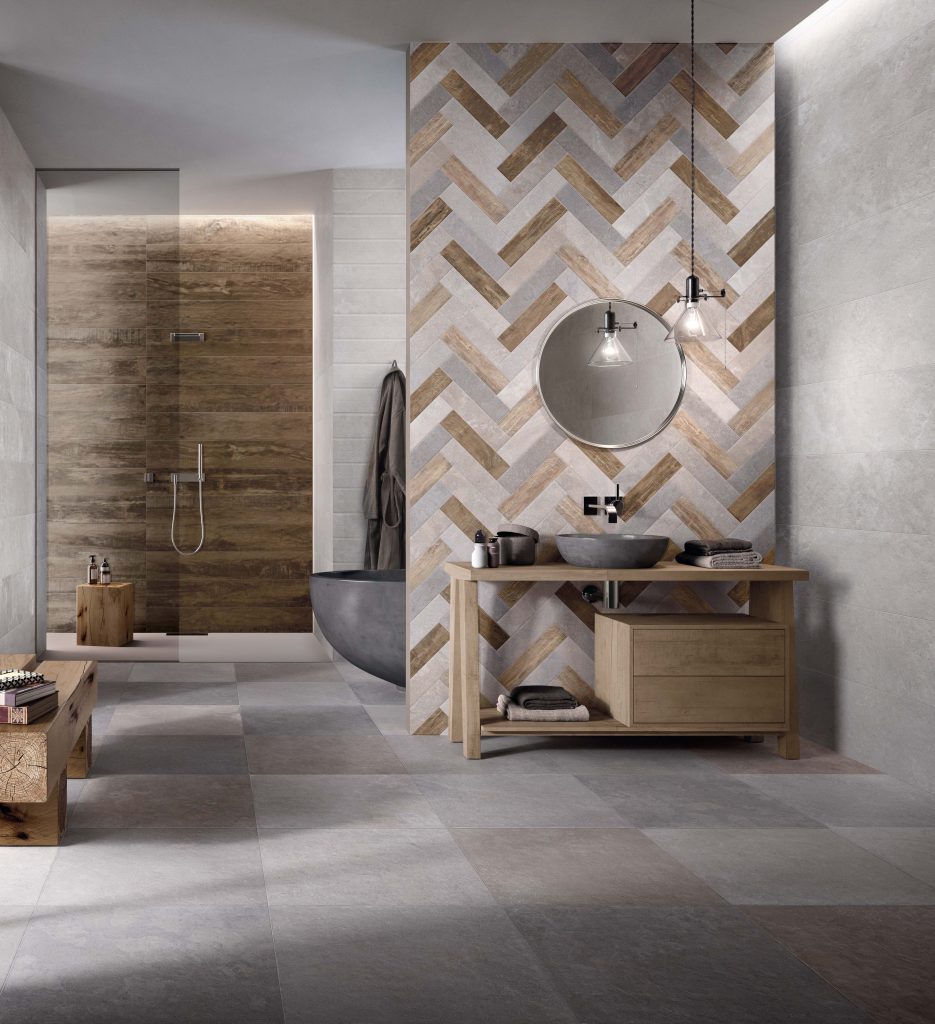 Textural Touches
Adding a bit of texture to your bathroom counterbalances its smooth lines and keeps your space from appearing too sterile. Luxurious, stylized wallpaper in fabrics like grasscloth lend a tactile element to the room, creating a sense of warmth; just make sure your bathroom is properly ventilated (or stick to waterproof wallpaper materials such as fiberglass). Likewise, a gorgeously patterned wool rug can seamlessly tie disparate features together. There's no need to worry about placing a wool rug in a high-humidity environment, either; wool naturally wicks moisture very effectively.
Pushing the Boundaries
Don't be afraid to think outside the box when designing your bathroom. There's no reason for this room to be constrained to its own small space; indeed, one of the most exciting trends in luxury bathrooms is the combination of the bathroom with another room in the house, such as the master bedroom. Removing the barrier between the two rooms helps to weave the concept of self-care into every aspect of your day-to-day life.
Showstopping design elements like a deep soaking tub are no longer relegated to the confines of the bathroom; instead, they play an integral part in the overall design of a master suite (perhaps separated from the bed area by a partition wall or a raised platform). You could also incorporate a small seating area in your bathroom layout, or, depending on your climate and the level of privacy in your home, design a bathroom that opens onto an outdoor patio with a shower or tub.
By making your bathroom the luxurious focal point of your wellness rituals, you can elevate even the smallest habits and activities into calming and resotarive experiences that lift your spirits and enhance your overall health.