Luxury home bars have become an increasingly popular phenomenon in recent years. There's something very special about having a space in your house specifically designed for enjoying a cocktail and entertaining friends and family. Add to that the fact that home bars remove the hassle of traveling or dealing with crowds, and the concept becomes even more appealing. Below are some ideas and inspiration for creating a luxury bar in the comfort of your home.
Swanky Speakeasy
With their unique atmosphere and classic cocktails, speakeasy-style lounges have experienced a resurgence over the last decade or so. Take the trend a step further by replicating one of these chic watering holes in your home. The bars of the Prohibition era were famous for their intimate, "secret" ambiance, so you'll want to set the scene with rich, warm decor. Paint your walls with deep tones like burgundy or use patterned, textured wallpaper. Twinkling crystal chandeliers and tufted leather sofas provide soft lighting and comfortable seating. Finish the look with velvet drapery and mirrors; decorate the bar with burnished brass accents and a stylish cocktail set, complete with a shaker and a strainer.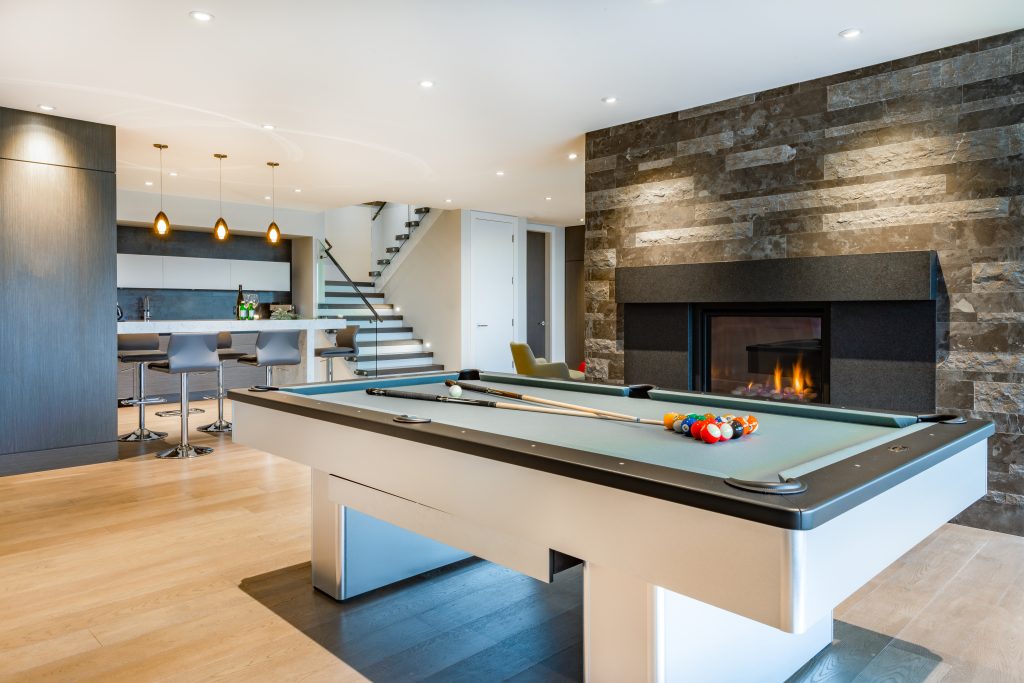 Fun and Games
If your idea of the perfect evening involves a little healthy competition, consider creating a luxury game room/sports bar with all the trappings (think gleaming taps, polished wood and brass foot rails). These types of home bars allow for more people to enjoy the space, since they provide activities other than drinking; increase the excitement factor by installing pub-style games like a dart board, a billiards table and a shuffleboard table. You could also appeal to your inner child (and everyone else's) by stocking the room with retro arcade games. And of course, no game room would be complete without a large flat-screen TV to broadcast the day's biggest sporting events.
A Piece of Paradise
Sip a cocktail and transport yourself to a tropical island in an outdoor bar inspired by the South Pacific. When constructed using traditional Polynesian methods, these remarkable structures feature sturdy, elegantly rustic materials including natural thatch and bamboo (which, as an added bonus, are also environmentally sustainable). Enhance your space and pay homage to the remarkable craftsmanship of the region with an intricately carved wooden panel, and hang warm LED pendant lights to impart a cozy atmosphere.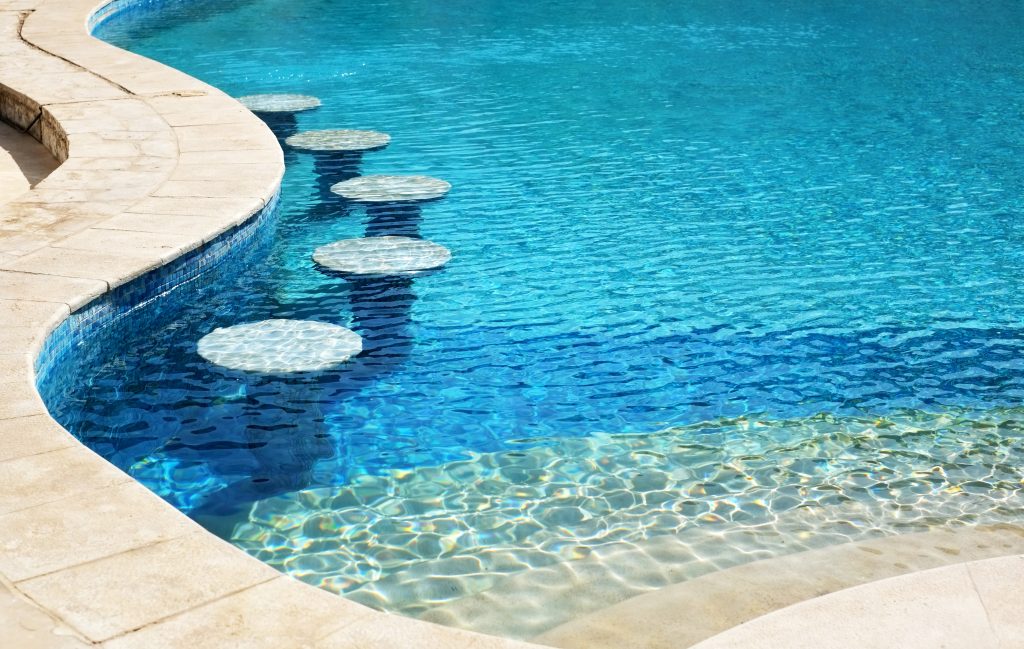 Swim-up Sophistication
Few things feel quite as indulgent as cooling off with a refreshing beverage while floating languidly in a sparkling swimming pool. By including a swim-up bar in your pool, you can bring the resort vacation experience right to your own backyard. Designing your pool bar from scratch with professional pool builders enables you to choose everything from the curvature of the counter and the tiling on your built-in stools to the layout of the "dry side" of your bar (which can offer much more than just drinks – some pool bar dry sides include wood-burning stoves, grills and other gourmet appliances). If you have a pool already and you don't want to commit to a full reconstruction project, you can always portion off an area of the pool deck at the shallow end, add decorative tiling to differentiate the area from the rest of the pool and drop in some submersible lounge chairs.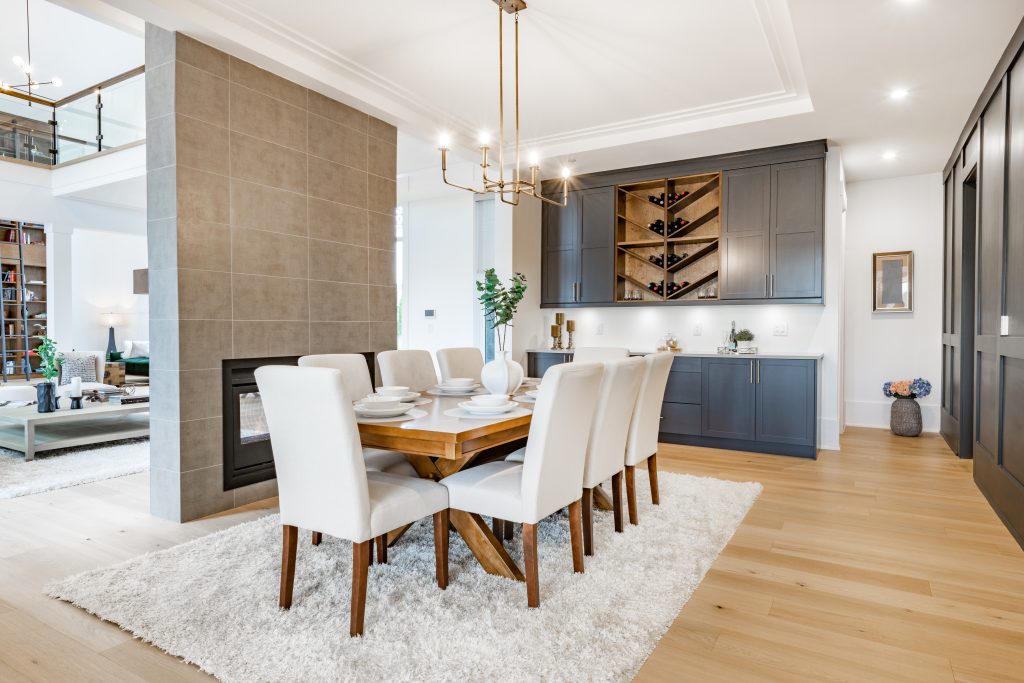 Stunning Showcase
While it's exciting to recreate the ambiance of an exotic locale or a bygone era, your home bar doesn't necessarily have to emulate a specific theme or destination. Don't be afraid to shine a spotlight on one specific element – from the intricate tiling on your bartop to the distinctiveness of your liquor collection.
There are several different ways to display your fancy liqueurs and cocktail finery. If you're looking to keep your space as sleek and streamlined as possible, the simplest option is a sophisticated bar cart or trolley, which also offers the flexibility of being mobile and is easy to restock. Place your most impressive bottles and glassware on the cart to give guests a "sneak peek", and store the rest of your accoutrements out of sight.
Looking for something a little more dramatic? Invest in built-in cabinets with glass doors to draw attention to your collection and add a unique design element to the room. Add mirrors to the back walls of the shelves (or install a mirrored backsplash underneath the shelves) to make the space really pop.
There are plenty of different options to consider, but ultimately the style that you choose for your home bar is less important than the way the space makes you feel. A successful home bar offers a luxury escape from life's daily routine – a chance to unwind and spend some well-deserved time with your nearest and dearest.