Central to the Pine Valley Mountains, Zion National Park and the Mojave Desert, St. George sits at the nexus of beauty, adventure and outdoor recreation. Southern Utah's largest city, this gorgeous destination consistently ranks as one of the fastest-growing metropolitan areas in the United States. Yet it still maintains all the beauty and charm that make it a popular tourist attraction and a coveted location for luxury homes in Utah.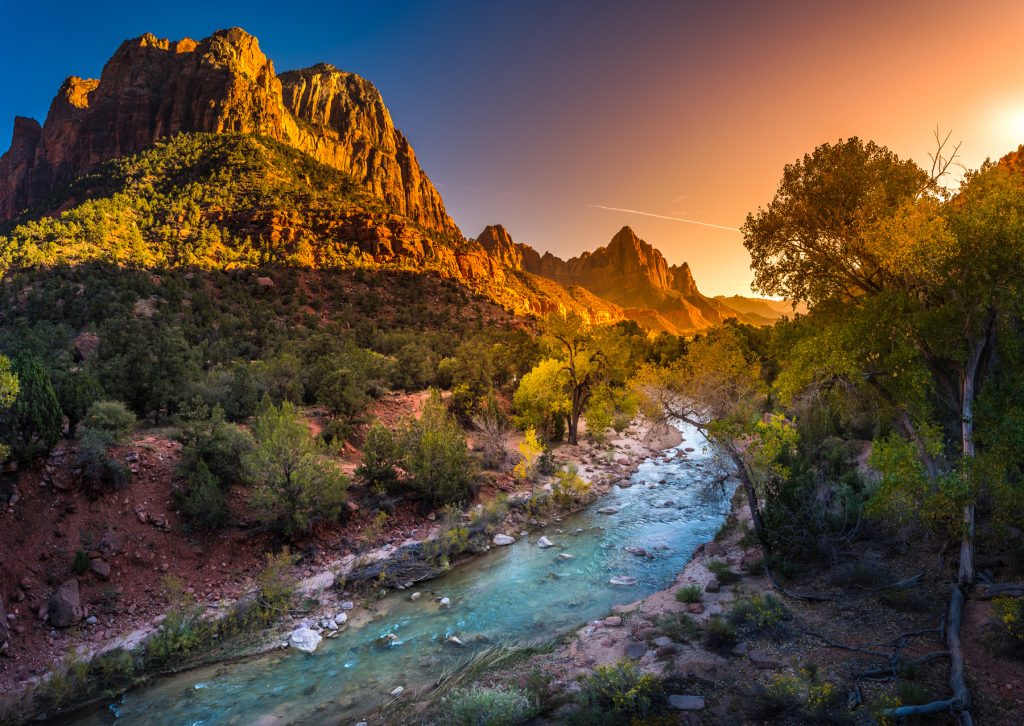 What Makes St. George So Special?
Surrounded by three distinct ecoregions (Colorado Plateau, the Mojave Desert and Great Basin), St. George is the launching point for diverse sights and experiences. The Grand Canyon is only 45 minutes away, and the glittering lights of Las Vegas are just a two-hour drive. But according to local Realtor® April Gates, it's the city itself that inspires buyers to seek luxury homes in Utah's southern gem. 
"St. George was recently ranked as the fastest-growing metro area in America," said the ERA-affiliated luxury real estate agent. "People come here for a myriad of reasons: The weather, safety, kindness of locals and the unlimited things to do if you want to stay active."
Always a big draw for vacationers, adventure-seekers and retirees, St. George has now become a prime destination for luxury homebuyers, who seek a harmonious balance between beauty, recreation and just the right amount of metro trappings. According to Gates, the city's impressive growth has translated to luxury spas, championship golf and boutique shopping in addition to its celebrated outdoor recreation assets. 
Activities and Attractions
A popular destination for people of all ages and interests, St. George offers mild to warm weather and many upscale amenities. The city is home to dozens of golf courses, including Copper Rock and the highly-rated Entrada at Snow Canyon, as well as popular destination resorts such as Atara and Red Mountain. Climbers can explore majestic sandstone destinations, including Snow Canyon State Park, Green Valley Gap and Pioneer Park.
Second only to Yellowstone in annual visitation, Zion National Park is a big bucket-list destination with incomparable natural beauty. But locals like April Gates are quick to point out that there are also plenty of exceptional outdoor attractions just outside their front doors.
"We are known for our varied outdoor activities, including golf, pickleball and ATV trails," said Gates. "There are reservoirs for paddle boarding, kayaking and fishing. It's also an incredible environment for biking and hiking. In fact, the Ironman just had their world championship here because of the amazing terrain."
In addition to its incredible beauty and outdoor recreation, the area is home to art museums and natural history museums, such as the thrilling St. George Dinosaur Museum. And just a few minutes away in the nearby city of Ivins, thousands of visitors eagerly gather for live performances at Tuacahn Amphitheater, widely known as "Broadway in the Desert." Gates notes that the city also plays host to celebrated annual events, including The Huntsman World Senior Games, the world's biggest multi-sport senior competition.
Shopping, Culture and Nightlife
Following a massive transformation in recent years, the St. George downtown district has become a thriving place for great food, unique shops and live entertainment. A popular local shopping center, Red Cliffs Mall also features a range of stores and diverse dining spots.
Just minutes away, the small town of Springdale sits at the mouth of Zion Canyon, where it offers a plethora of intriguing restaurants and bars. For a unique shopping experience, residents can also visit Ancestor Square, a charming shopping and dining district filled with boutique shops and restaurants. 
St. George features a variety of great restaurants, ranging from chic Zagat-rated dining at Painted Pony to authentic Neapolitan-style Italian pizza at Riggatti's. As a result, Gates says St. George has become a top culinary destination in Southern Utah, with an array of choices for any appetite.
So Many Reasons to Call St. George Home
In recent years, upscale home buyers have flocked to St. George for so many reasons, including the weather, safety and the unlimited things to do. According to Gates, the area has become a major player in the luxury real estate market as more and more people discover its unique combination of beauty, activities and high quality of life.
"Southern Utah has a particular and unique draw to the upscale buyer because of the healthy, friendly, safe and easy living that can be found here," she said. "People are nice, taxes are low, towns are clean, crime is low. I would challenge anyone from anywhere to find a more wonderful place to call home."