Outdoor spaces offer so much more than just curb appeal. They provide homeowners with the opportunity to dramatically increase their living area – and some backyards even blur the lines between indoor and outdoor, with alfresco kitchens and living areas. Discover some of the top trends in luxury home landscaping and design – from sustainable gardens and beautifully lit entertainment areas to lush corners for moments of quiet contemplation.
Take it Outside
Today's hottest backyard trends involve thinking outside the box and extending your home's livable space beyond just its interior square footage. This is particularly true in warmer climates, where luxury landscaping firms are frequently tasked with creating outdoor kitchens and living rooms for their clients. But even homes in cooler locales can take advantage of the trend with careful planning. The first question to ask yourself is how you plan to utilize the space; will it be a casual venue for reading a book with a glass of wine, or an entertainment hub for your entire family and friends? Once you've decided how you want the space to function, start with flooring; options range from sleek polished concrete to rustic wood, depending on your preference. If you're designing an outdoor kitchen, clever hardscaping techniques can create built-in workspaces and countertops, while also allowing space for sturdy, outdoor-safe appliances. Looking for more of a living room vibe? Set aside space for an outdoor-friendly, high-quality TV screen and an outdoor sound system, as well as a luxurious wet bar. Pull the area together with an outdoor rug, a fire pit, elegant lighting and stylish furniture designed to withstand the elements. If you live in a region that sees a lot of rain, covering your space with a retractable roof adds flexibility (and also protects against the harsh effects of the sun in the middle of summer).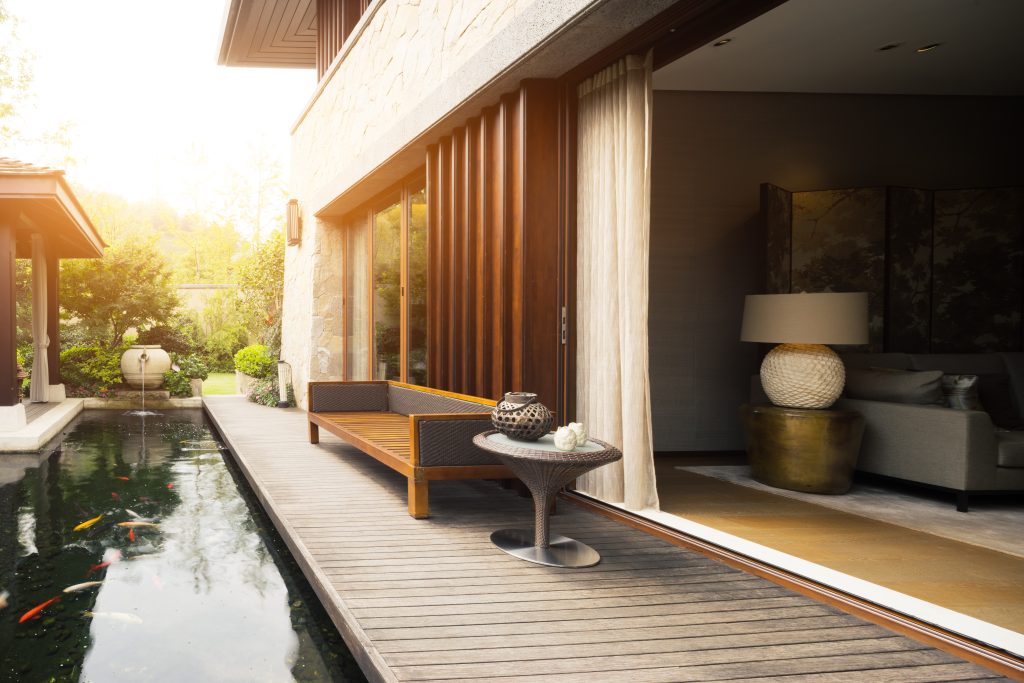 A Place to Pause
Outdoor entertaining is wonderful, but so is the need for a little quiet reflection. Elevate your daily yoga or meditation practice – or design a tranquil space for your morning cup of coffee – by sectioning off a small corner within your property and creating an atmosphere of Zen. Place a stone pathway to your chosen spot and frame the area with lush, structured plants that create a visual separation; milkweed and lavender are great options. Additional landscaping elements can include a small water feature, such as a fountain, or a picturesque pergola, perhaps even with climbing honeysuckle or clematis.
Want to take your Zen garden to the next level? Consider incorporating a rock garden and wind chimes, as well as sculptures and even a koi pond with a bridge.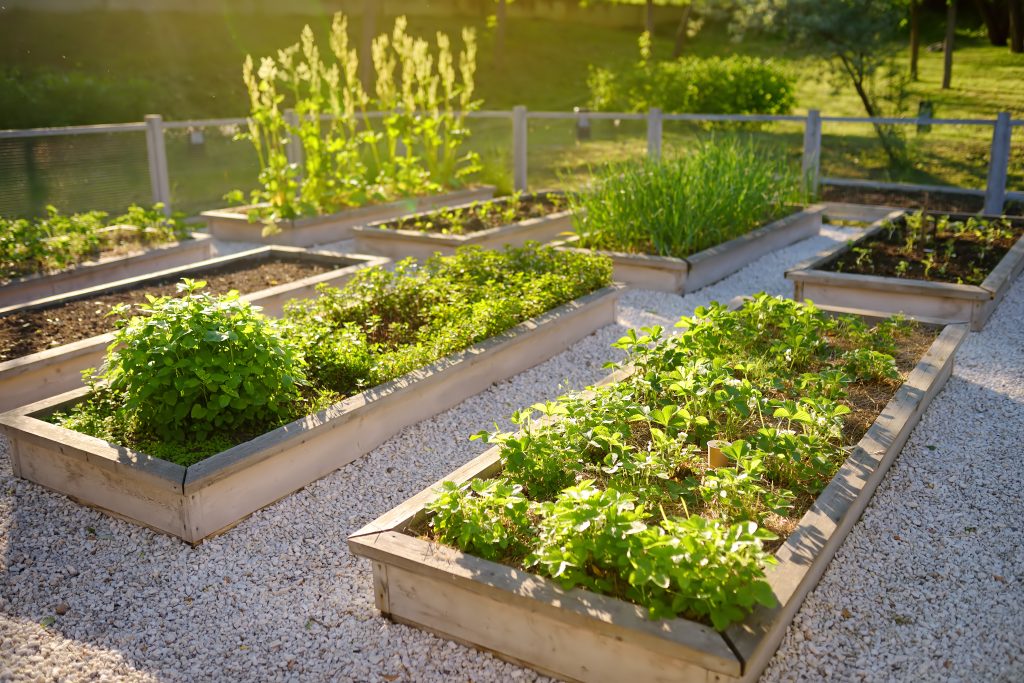 Sustainable and Local
Luxury and sustainability increasingly go hand in hand, particularly with regard to outdoor landscaping trends. One of the most fulfilling ways to add an element of sustainability to your outdoor space is by growing your own herbs, fruits and vegetables; few things are as rewarding as eating a delicious meal sourced with organic ingredients from your own garden. Start by conducting a little research into which crops are best suited to your climate; tomatoes, zucchini, green beans and sweet potatoes thrive in hot weather, whereas kale and carrots are cool-weather lovers.
Another way to support the environment is with native plants. Trees, grasses and flowers that are uniquely suited to your local climate are more likely to flourish, making it easier for you to care for your yard. In turn, these plants attract and support local wildlife – adding a wonderfully natural element to your backyard ambiance.
Innovative Irrigation
If you live in a particularly arid climate, your best bet is desert-style landscaping, which features plenty of hardscaping and a smattering of hearty plants that thrive without much water. If not, you'll need to make sure that the greenery within your luxury backyard is properly watered. That's where smart irrigation comes in. A departure from the standard irrigation systems which simply run on a timer, these technologically advanced systems deliver a customized watering schedule based on a number of factors ranging from outdoor temperature to soil moisture. The temperature and soil sensors are easy to install and are managed wirelessly via a controller,  which can be operated on your computer or mobile device. More sophisticated systems also include irrigation heads that are designed exactly to your backyard specifications, eliminating water waste.
The possibilities for your backyard transformation are limitless. With these luxury trends in mind, you can create a stylish meeting place, a haven of tranquility and a sustainable source of healthy nutrition (or all three).