There's something very special about entertaining at home and creating lasting memories with your friends and loved ones in a comfortable, private environment that is tailored to your own distinct tastes. Luxury homeowners are raising the bar on in-house entertainment, with modern, flexible trends that utilize contemporary technology and maximize convenience while providing unforgettable experiences. Here are some of the latest luxury entertainment ideas to consider for your home.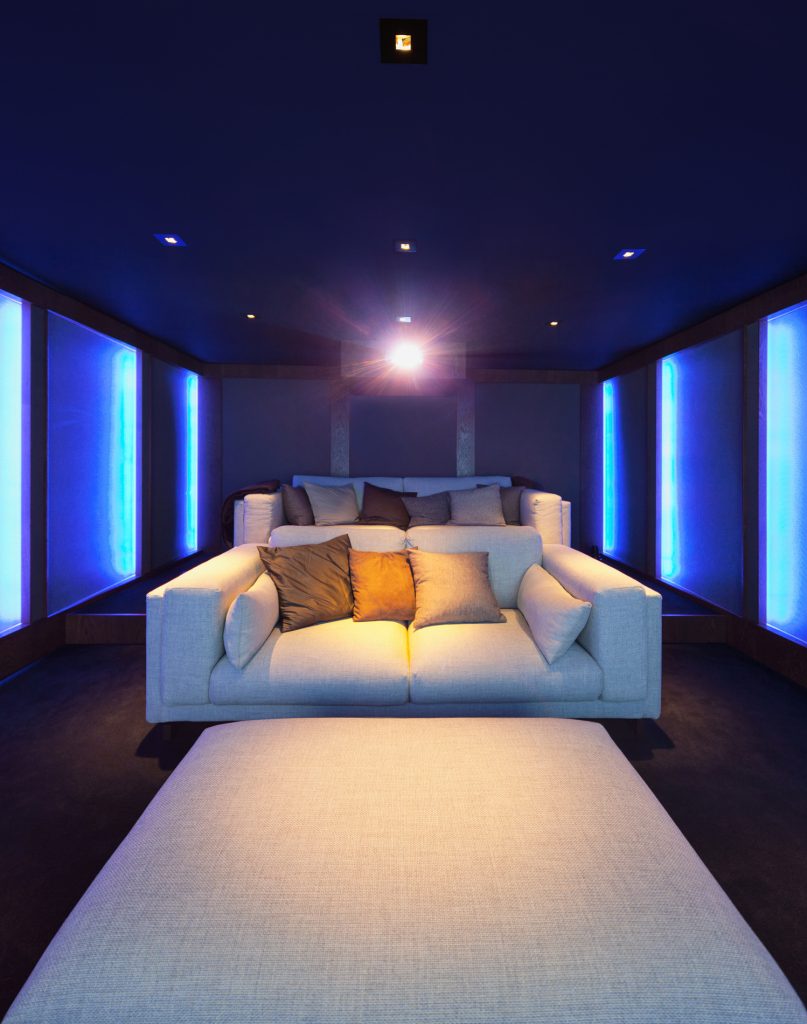 Cinematic Magic
Home theater design has evolved quite a bit in recent years. While earlier iterations of these rooms tended to be smaller and more intimate, with darker color schemes and fixed rows of recliners, recent trends have skewed toward airier spaces with more varied and flexible seating options. Not surprisingly, advancements in technology have further modernized the home theater experience, too. Equip your seating with motion haptic technology, which is synchronized to whatever is happening on the screen; it delivers subtle vibrations to mimic the action and deliver a more immersive experience. Amp up the coziness with a fireplace (you'll want to choose a company that can install fireplaces that are safe to use underneath wall-mounted media), and add quirky extras like a concession stand to enhance the fun.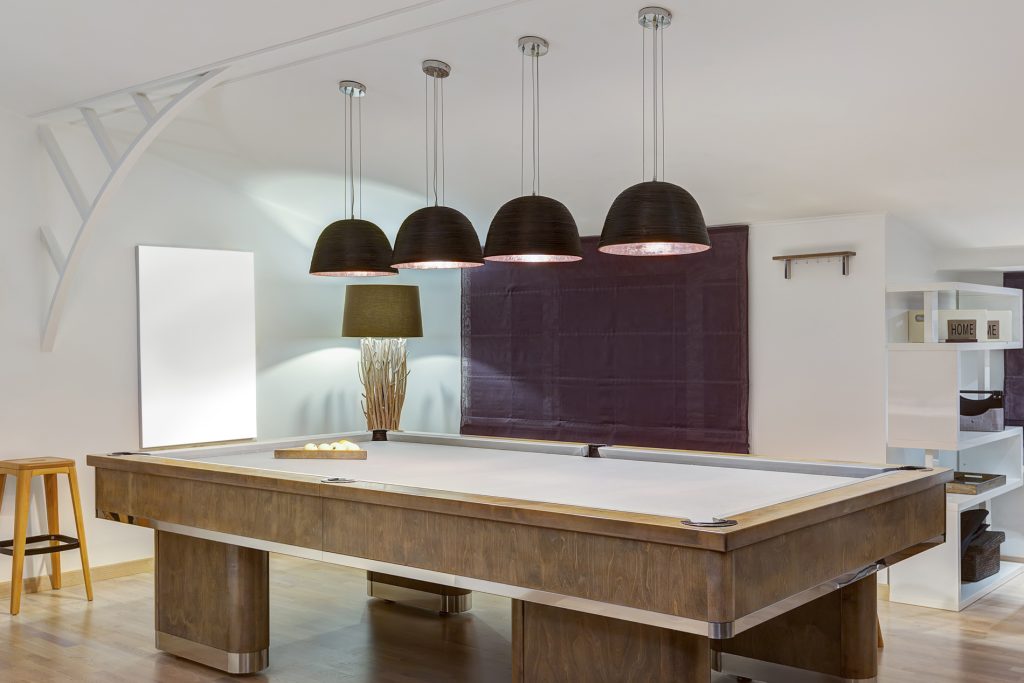 One Space, Many Uses
Of course, theaters are just the beginning. A popular trend in luxury home design is that of the multi-purpose entertainment center – a room that features a range of activities catering to different moods and tastes. Pair your home cinema with a sleek bar and cocktail lounge-style tables, or create a traditional game room with a pool table, darts and a jukebox. Looking for screen-free relaxation? Make use of clever concealment tricks like a wall cabinet, sliding wall bookshelf or rollable TV screen to transform the space from a theater into a reading room or a yoga/meditation studio.
Next-level Gaming
A home entertainment space offers the perfect setting for your gaming system, and luxury homeowners are pushing the envelope on exactly what those systems entail. Virtual Reality (VR) is the future of gaming; the most luxurious homes incorporate high-end systems that bring the experience to new heights. Perfect your swing with hyper-realistic golf simulators that mimic some of the world's most famous courses. Or take a spin in a top-of-the-line VR racing simulator, featuring the aforementioned motion haptic technology, and enjoy an adrenaline rush that rivals actually being on the racetrack.
Sophisticated Sounds
Want to host some impromptu jam sessions with your nearest and dearest? Design a luxury home music room to showcase your various instruments and provide an inspirational space for honing your skills and entertaining guests. Or take the concept a step further with a soundproof at-home music studio, complete with soundboards, a listening area and other professional touches. If you prefer to listen rather than play, install a state-of-the-art sound system; options range from retro-inspired turntables and standalone speakers to ceiling-installed systems that blend seamlessly into your home's decor.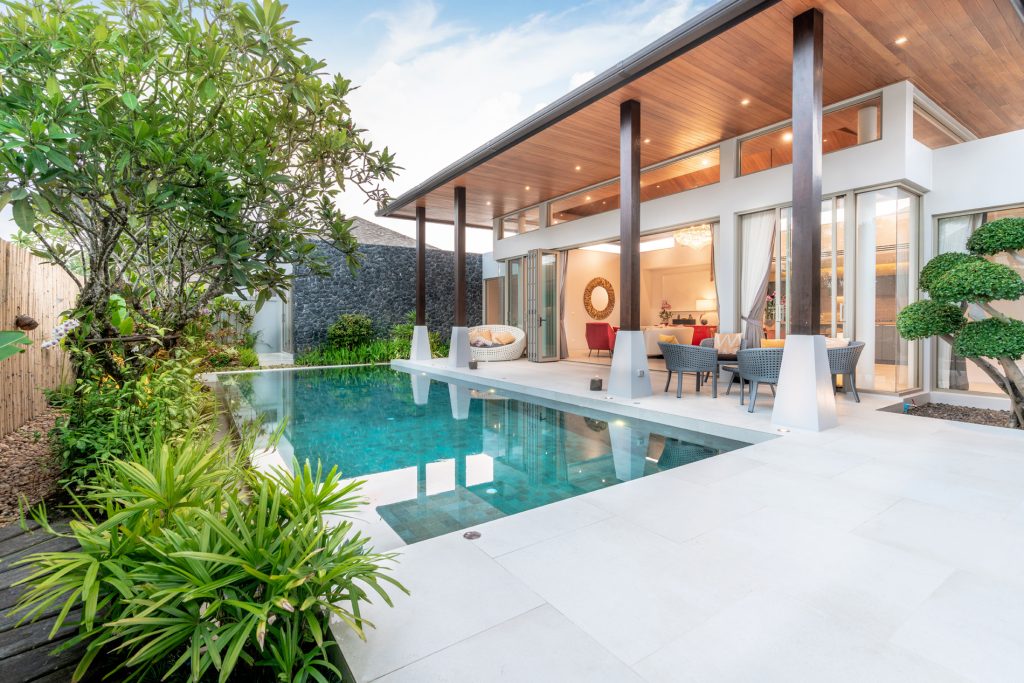 Open-air Entertainment
There are plenty of reasons to incorporate the outdoors into your livable space, and the latest advancements in technology make it easy to entertain al fresco. Thrill your friends and family with a showing of the latest releases in a spacious outdoor home theater; a retractable screen or weather-safe cabinet can keep your TV safe from the elements when not in use. If you have a pool, you can position your screen at the water's edge, allowing people to watch movies or sporting events while they float. Install cutting-edge outdoor speakers for the best sound – some companies create speakers that look like rocks, so they can sit unobtrusively within your landscaping – and incorporate below-ground subwoofers for extra audio oomph.
As with an indoor entertainment center, your outdoor space can be used for several purposes. Add a sunken seating area with a fire pit or fireplace, or include a kitchen with bar stools and comfortable, sturdy seating for cocktail parties or relaxed open-air dining.
Whether your idea of luxury home entertainment involves exhilarating gaming action, a relaxed screening of your favorite film or an album listening party, there's a setup to suit every style. So you can host a one-of-a-kind gathering without ever having to leave your house.
The cocktail lounge-style link isn't showing anything when I click on it
Sorry about that! Here's the correct link: https://cdn-anlmm.nitrocdn.com/SrLbbwlTbhnvhzxzDsdjYeZYdiuHrMyx/assets/static/optimized/rev-94ca16e/wp-content/uploads/2020/08/luxury-chill-top-enertainment-rooms-4.jpg
Thanks!