The concept of working from home has changed dramatically in recent years, evolving far beyond being simply a temporary or occasional measure. Many of us are rethinking our schedules and incorporating remote or hybrid work into our more permanent routines.
If you're working from home, it's important to create a comfortable, inspirational space that encourages innovation – and wows colleagues and clients during virtual meetings. Explore some of the most recent trends in luxury home office design and transform your WFH space into a haven of creativity.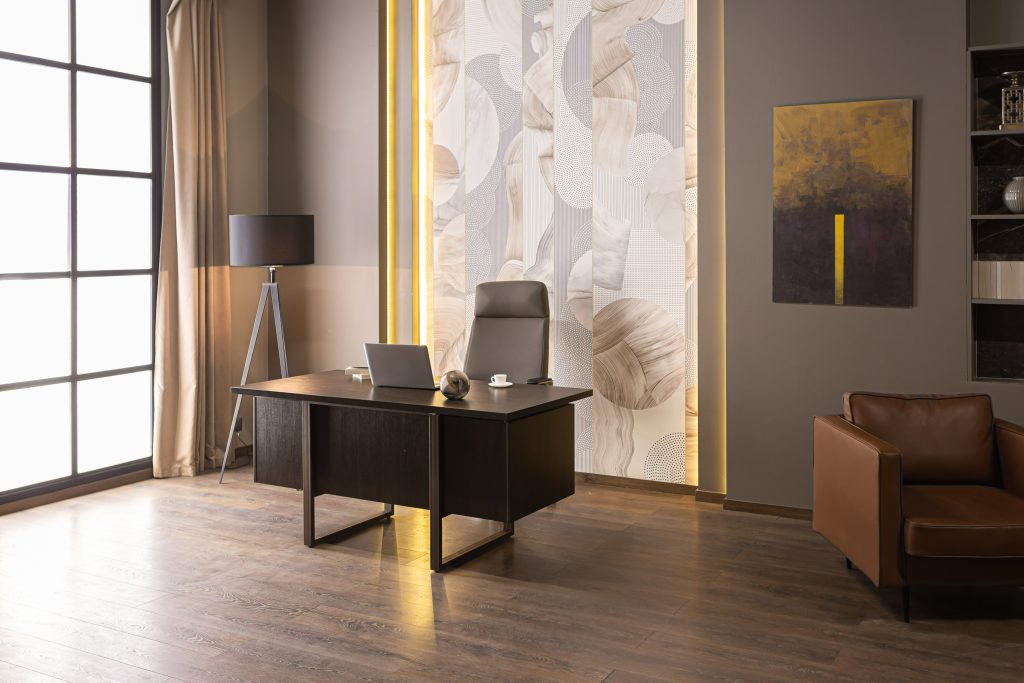 Setting the tone
Color is a crucial element of design in any room, but it's especially important in your home office. Keep in mind that you are likely going to spend several hours of your day (or more) in this space, so you'll want to choose a color that suits your personality.
Perhaps you work better with absolutely no distractions, in which case warm, neutral tones are your best bet. Or maybe you draw inspiration from vibrant colors and eclectic artistic touches. The important thing is to know your work style and to use hues that complement it.
Shed some light
If you spend a large portion of your day staring at a computer screen or poring over documents, you'll know how important it is to have good lighting in your office. Natural light minimizes eye strain, boosts mood and imparts a welcoming ambiance; if you have natural light in your room, place your desk or workspace near the source of that light in order to take full advantage of it.
If you don't have natural light in your home office, you can emulate its benefits with a sophisticated natural light lamp, which is designed to mimic the light of the sun. These lamps often come equipped with a range of customizable color and brightness settings, as well as glare-reducing lenses; some even include wireless device chargers. Floor lamps with adjustable pivot lighting are a great choice for those who work in more than one spot within their office or who share the room with others.
Eco-friendly elegance
Environmental sustainability continues to be a top trend in luxury design, and that ethos extends to home offices. Many of the aforementioned natural light lamps use LED bulbs, which are far more energy-efficient than regular bulbs and thus better for the environment (and your electricity bill). You can also accentuate your space with low-maintenance, indoor-friendly plants such as English ivy or peace lily, both of which have been touted by some experts for their ability to absorb toxins in the air.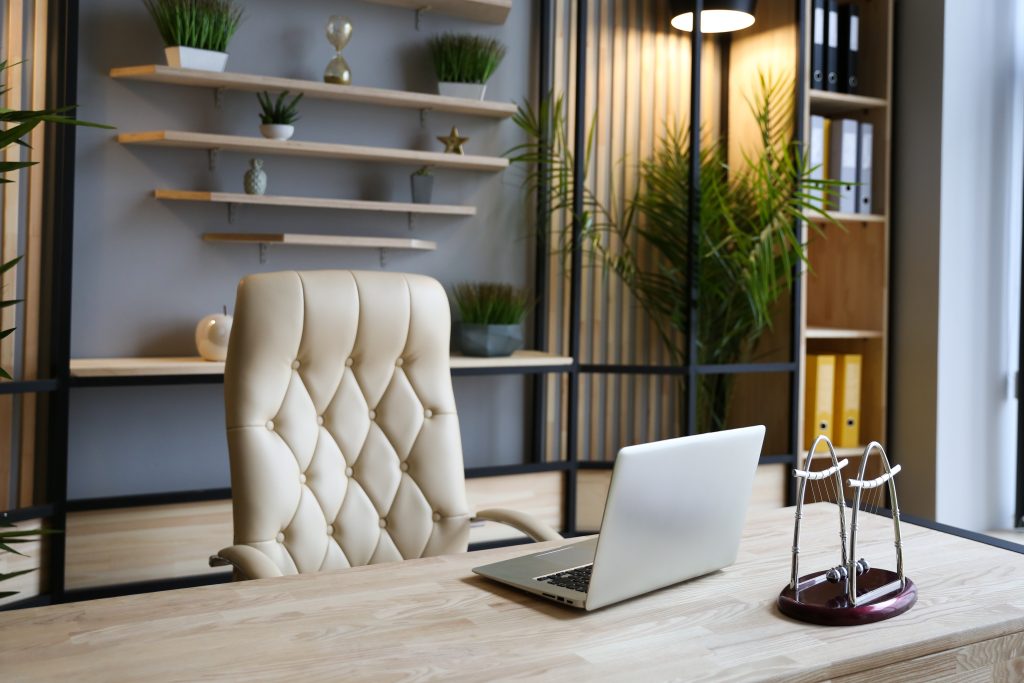 Build a better desk
Spending hours at your workspace can take its toll on your body in the form of back pain, a stiff neck and sore muscles. The latest trends in luxury home office desks and seating combat this with health-conscious design elements – while still looking gorgeous.
Adjustable height desks provide you with the flexibility to stand or sit throughout the day; "crossover" solutions can be placed on standard desks and raised or lowered via a built-in motor. Herman Miller's doctor-approved Embody Chair conforms to your movements and promotes better posture and increased blood circulation. (As a bonus: it's constructed from over 40% recycled materials.)
Be ready for your close-up
Video meetings have become a part of everyday life for many remote employees, so it's important to have a solution in place that provides the best, most reliable experience. Designed specifically for home offices, cutting-edge products like the Neat Frame elevate your Zoom calls with state-of-the-art camera and sound technology. The Lumina webcam delivers exceptional video quality and automatic color calibration, as well as noise-canceling microphones to eliminate distraction. The result: picture-perfect clarity and the assurance that you're putting your best foot forward in meetings with coworkers or customers.
Breathe easy
The benefits of air purifiers are undeniable. They eliminate harmful chemicals, virus-causing pathogens and unpleasant odors, providing a more pleasant environment and even (according to some studies) increasing energy levels and preventing cognitive decline. Today's air purifiers are quiet, unobtrusive and portable, and can easily be incorporated into your home office design.
Whether you work from home one day or a week or are 100% remote, having the right setup makes all the difference. By combining your personal style with the latest luxury trends, you can design a home office that makes doing business a pleasure.