There are plenty of reasons to consider adding a pool to your home. In addition to enhancing the overall appeal of your property, pools provide a wonderful gathering spot for family and friends. Swimming is also an excellent low-impact, total-body exercise. If you're thinking about taking the proverbial plunge, here are some suggestions to contemplate (along with inspiration in the form of some of the world's most beautiful pools).
Bring the Outside In
Depending on where you live, year-round outdoor swimming may not be a possibility for you. Indoor pools in chillier locales can solve the issue of seasonal changes beautifully when situated in a light-filled addition with oversized windows and a wall of sliding doors; these pools allow their owners to enjoy the warm weather during the summer months – or keep cozy when it's chilly out. Another way to achieve the same goal is to design an indoor pool in a room with folding doors that open up one of the walls completely; these doors can also be closed and even shaded by gauzy drapes when privacy is preferred.
Get Creative with Your Materials
Acrylic panels have become one of the hottest trends in pool design in recent years. They lend an undeniable "wow" factor to pools and are flexible, durable and easy to repair. Acrylic panels also provide a unique way to bridge your indoor/outdoor space, allowing you to catch a glimpse into the pool from inside the house (and vice versa).
Take the transparent look a step further with a full-pool acrylic construction featuring striking enhancements including a waterfall feature and a fire pit (s'mores optional).
Lightweight and quicker to install than their concrete counterparts, stainless steel pools are gaining popularity as a preferred material for pool building. They have the benefit of being non-porous and resistant to rust and corrosion – and stainless steel is a smart choice for installations on rooftops and other locations where weight is potentially an issue.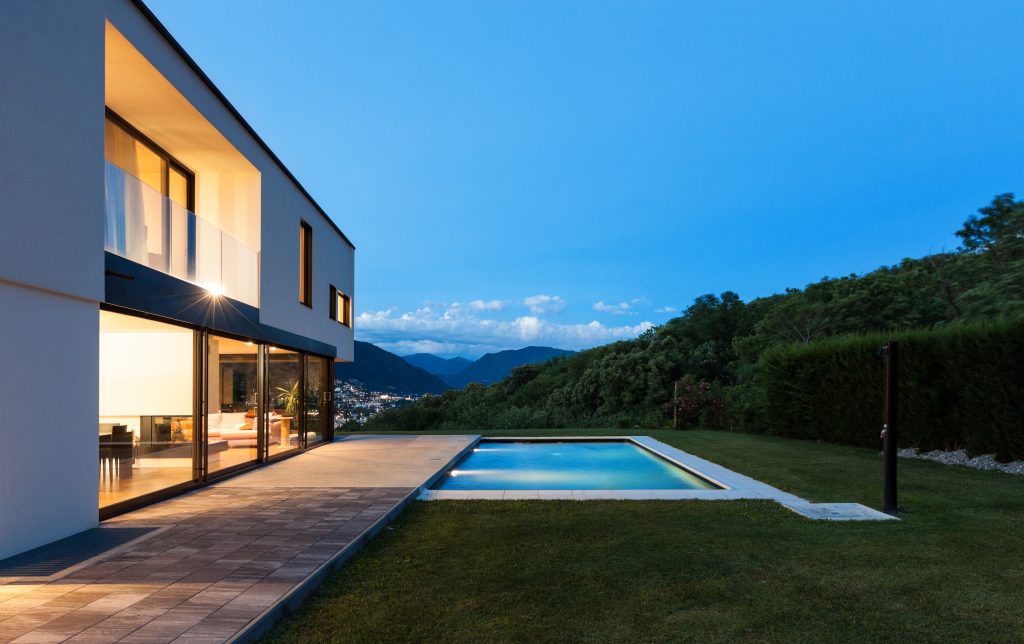 Design Your Own Personal Paradise…
While many elements of home design require a measure of practicality, pools provide the opportunity for us to indulge our whims a little. Add a tropical element to your home with a lagoon-style pool, complete with striking rock formations, cascading water features and even a grotto. Or incorporate a whirlpool spa into your pool design – perfect for easing tired muscles after swimming a few laps.
Pools don't have to be flat, either. Multi-level pools add a sophisticated element to your landscaping, and are an innovative way to address variances in the slope of your yard.
You've heard of dining by the pool – but what about dining in the pool? If you have the space, consider embedding a sunken, dry dining area inside of the pool, surrounded by walls and accessible via walkway – and relax with a meal and a drink on your own personal island.
…But Consider Your Surroundings, Too
While there's nothing wrong with fulfilling your design dreams, sometimes it's more impressive to let your pool blend into the background and let nature take center stage. This is especially true if your home has exceptional views – like the crashing waves of the Pacific Ocean or the snow-capped peaks of the Swiss Alps.
Want to add a little sparkle to your pool without detracting from the beauty around it? Consider lining the pool surface with mosaic tile. Whether you choose bold statement designs (like intricate flowers and whimsical sea creatures) or an all-over pattern in dark or light colors, tiling is a wonderful way to elevate the overall atmosphere.
Green Pool Design Can Be Luxurious
The "Dahoam" residential pool in Northern Italy is proof that you can design a pool that is both stylish and environmentally sustainable. Natural swimming pools are remarkable less for their design and more for the way they purify the water. The pool is surrounded by a zone of above- and below-water plants specifically chosen for their filtering properties; algae and bacteria are consumed as the water passes through the roots of these plants, thereby cleaning the water without the need for harsh chemicals.
Pool design is a continually evolving industry; with a little imagination and the assistance of knowledgeable professionals, there's virtually no limit to what you can create. Make 2021 the year you bring your aquatic visions to life.