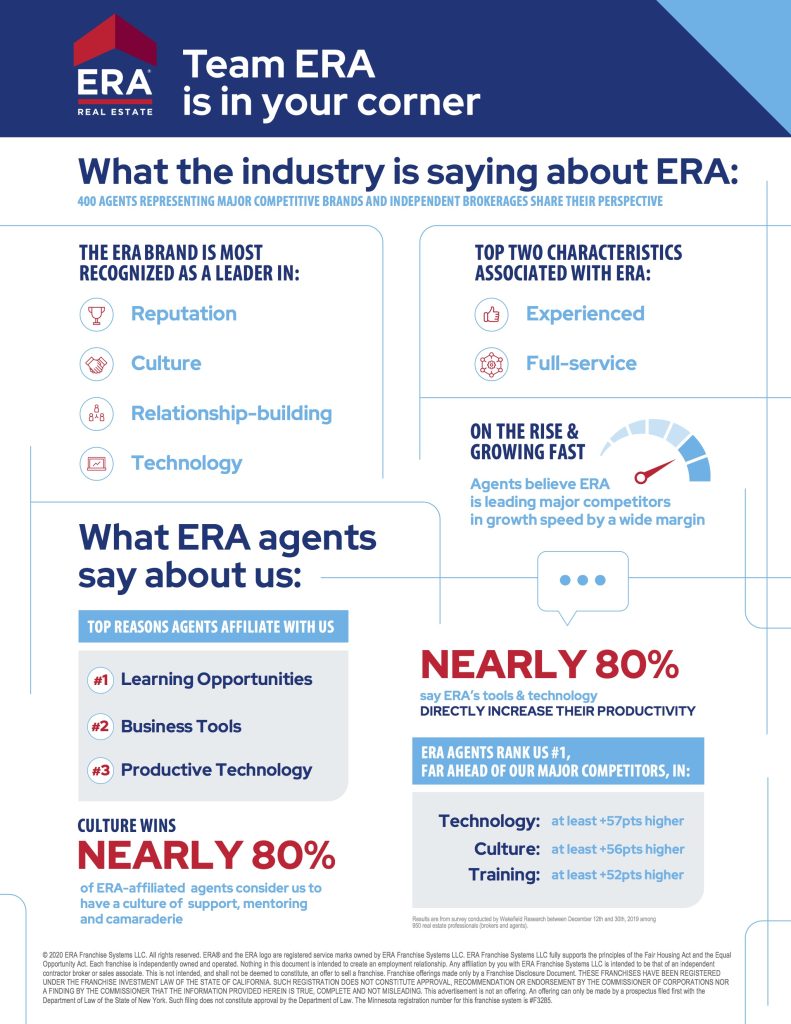 What the industry is saying about ERA:
400 agents representing major competitive brands and independent brokerages share their perspective.
The ERA Brand is Most Recognized as a Leader in:
Reputation
Culture
Relationship-building
Technology
Top Two Characteristics Associated with ERA:
On the Rise and Growing Fast
Agents believe ERA is leading major competitors in growth speed by a wide margin.
What ERA agents are saying about us:
Top Reasons Agents Say They Affiliate with us:
Learning Opportunities
Business Tools
Productive Technology
Nearly 80% say ERA tools and technology directly increase their productivity.
Culture Wins
Nearly 80% of ERA-affiliated agents consider us to have a culture of support, mentoring and camaraderie.
ERA agents rank ERA #1, far ahead of our major competitors, in:
Technology: at least +57 points higher
Culture: at least +56 points higher
Training: at least +52 points higher
Disclaimers:
Results are from survey conducted by Wakefield Research between December 12th and 30th, 2019 among 950 real estate professionals (brokers and agents)
© 2020 ERA Franchise Systems LLC. All rights reserved. ERA® and the ERA logo are registered service marks owned by ERA Franchise Systems LLC. ERA Franchise Systems LLC fully supports the principles of the Fair Housing Act and the Equal Opportunity Act. Each franchise is independently owned and operated. Nothing in this document is intended to create an employment relationship. Any affiliation by you with ERA Franchise Systems LLC is intended to be that of an independent contractor broker or sales associate. This is not intended, and shall not be deemed to constitute, an offer to sell a franchise. Franchise offerings made only by a Franchise Disclosure Document. THESE FRANCHISES HAVE BEEN REGISTERED UNDER THE FRANCHISE INVESTMENT LAW OF THE STATE OF CALIFORNIA. SUCH REGISTRATION DOES NOT CONSTITUTE APPROVAL, RECOMMENDATION OR ENDORSEMENT BY THE COMMISSIONER OF CORPORATIONS NOR A FINDING BY THE COMMISSIONER THAT THE INFORMATION PROVIDED HEREIN IS TRUE, COMPLETE AND NOT MISLEADING. This advertisement is not an offering. An offering can only be made by a prospectus filed first with the Department of Law of the State of New York. Such filing does not constitute approval by the Department of Law. The Minnesota registration number for this franchise system is #F3285.