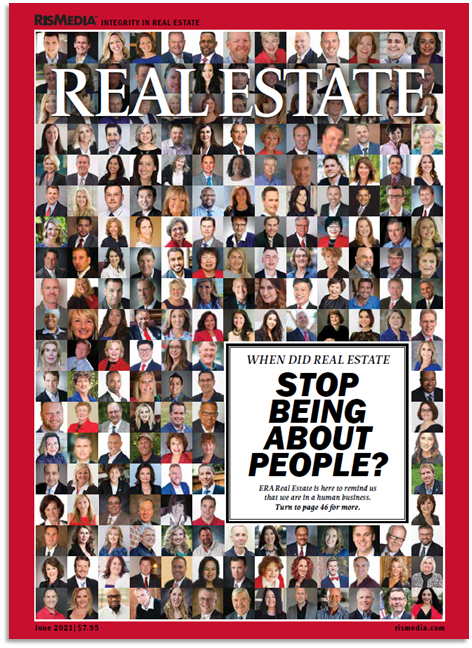 Leaders from Across the ERA® Network Remind Us That People Take Priority
MADISON, N.J. (June 1, 2021) – ERA® Real Estate, a global franchising leader within the Realogy family of brands, is approaching its 50th anniversary in 2022. The ERA brand has achieved global growth and success by embracing the human, local nature of real estate.
ERA affiliated brokers from across the country recently weighed in on the question: "When did real estate stop being about people?" in RISMedia's Real Estate magazine June cover story. Leading affiliated broker/owners within the ERA network discussed the enduring core values of the real estate industry and how the ERA brand has been integral to keeping those values front and center. Three major themes emerged: collaboration, relationships and growth.
"While technology, big data and artificial intelligence are instrumental in the way we do business as an industry, what sometimes gets lost is the true force that powers real estate – the people," said Sherry Chris, president and CEO of ERA Real Estate. "The Real Estate Magazine cover story is an important reminder that at its core, real estate is a human business. ERA is consistently recognized for its culture, reputation and relationships, all of which form the backbone of the brand. By being part of this unique and powerful network, our affiliated brokers and agents have access to forward-thinking ideas, tools, resources and each other to fuel their success. I'm incredibly proud to celebrate our extraordinary network and their continued dedication to making a difference in people's lives and in the communities they serve."
Collaboration
The ERA Real Estate network's collaborative culture is a true differentiator that drives new ideas, growth opportunities and new ways of working.  The story highlights the ways in which ERA affiliated brokers help each other thrive – no matter the market.
"It's like being part of the most productive co-op workspace; anything you need will be shared."
Jennifer Darby Metzger, ERA Justin Realty Co.
"One of the hallmarks of being part of ERA is the time and money we save solving problems and implementing transformational strategies. Having access to information from others saved time and saved me from making mistakes."
Tom DeWine, ERA Colonial Real Estate
"Everyone in the ERA network has something to teach, to contribute. And we all have something to learn from each other."
Patrick Dauenhauer, ERA Lambros Real Estate
"The worldly knowledge you gain when you are part of ERA helps you think differently. It helps me think bigger."
Robyn Erlenbush, ERA Landmark Real Estate

"People inherently want to work together. At ERA, we choose to collaborate—versus compete—across markets."
Neil Walters, ERA Brokers Consolidated
Relationships
Relationships permeate every level of the industry, whether you are a broker, an agent or a consumer. These critical connections can have a lasting impact on people's personal and professional lives. Whether it's a broker coaching a new agent or an agent guiding a homebuyer through the biggest purchase of their lives, real estate professionals foster relationships intended to last. In an industry reliant on referrals and repeat business, these are relationships that transcend the transaction.
"I consider it an honor to be part of people's lives. It's not a computer or comps that make that happen. It's the privilege of helping them figure out what's important to them."
John Tomlin, Tomlin St. Cyr Real Estate ERA Powered
"Fundamentally, we have succeeded because of relationships — with our agents, the community and the ERA network."
Julie Dawson Williams, ERA Dawson-Bradford REALTORS®
"Our agents love relationship building. The connectivity we gain from events like the ERA convention is incredibly valuable. An agent told me he went to one ERA convention and closed three additional deals from referrals that were made there."
Kurt Schuler, Schuler Bauer Real Estate Services ERA Powered
"For me, it ultimately became about surrounding myself with people who knew more than I did. These relationships, these people who I now call family, have made me a better broker."
Jaime Hensley, American Real Estate ERA Powered
"It's the service we provide—rooted in caring—that transforms our business. We are a service company that happens to do real estate."
Denise Strother, ERA Strother Real Estate
Growth
Growth comes in many forms in real estate. For example, companies can grow organically with agents, through mergers and acquisitions or expanding to allow additional revenue opportunities.
In a competitive industry, staying ahead is imperative in order to succeed.  ERA affiliated brokers state that having the backing and infrastructure of a proven brand coupled with the support of real estate leaders have made a difference in fueling growth for the long term.
"I wanted to build a brokerage business, but it was very difficult to do everything myself. Being part of ERA expedited my growth by 10 years."
Denise Strother, ERA Strother Real Estate
"We are recruiting with more of a longer-term perspective, making deposits into our credibility account and focusing on relationships."
John Tomlin, Tomlin St. Cyr Real Estate ERA Powered
"Looking to the future, I am letting go of the traditional day-to-day agent management by entrusting that to the experts on our team so that I can focus on growth and the big picture."
Andrew Linn, ERA David & Linn and ERA Kings Bay Realty
"I remember an ERA event where I was listening to Peter Hunt talk about how they grew their companies. I never would have had the confidence to do mergers and acquisitions without that inspiration…Relationships. People. Collaboration. That is where growth comes from."
Gus Grizzard, ERA Grizzard Real Estate
"When I started with ERA 20 years ago, I was a $2 million company with 20 agents. Today, I have nearly 300 agents and 10 locations. Jeff Riber, who was a dear friend and part of the ERA team at Realogy, cared enough to sponsor me at a Top Broker Retreat…From that experience, I learned what I needed to do to grow."
Eddie Wilder, ERA Wilder Realty
Read the RIS Media cover story, part of the June 2021 issue, here.
About ERA Real Estate
At ERA® Real Estate, we don't adapt to change, we create it. We believe that our core business values of collaboration, innovation, diversity and growth are needed now more than ever. As a global leader in the residential real estate industry for more than 40 years, the ERA brand was the first real estate franchise to expand internationally, the first to post listings online, and is the only national company that offers the Sellers Security® Plan program.
 The ERA Real Estate network includes more than 36,000 affiliated brokers and independent sales associates and approximately 2,200 offices throughout the United States and 31 other countries and territories. ERA Franchise Systems LLC (www.ERA.com) which operates the ERA Real Estate system, is a subsidiary of Realogy Holdings Corp. (NYSE: RLGY), a global provider of real estate services. ERA Real Estate information is available at TeamERA.com
 
Media Contact:
Marie VanAssendelft
201-724-6372
Marie.vanassendelft@teamera.com